Been about a month since I did this.
On April 12, 2016, I bought 29 shares of Omega Healthcare Investors (OHI) at $35.00/share for a total (with cost) of $1,022.00. Wish I bought this at $28 a share but tax season...
This will increase my dividends by $66.12.
Rationale:
This buy gives me a total of 115 shares of OHI. I consider this a "full position" and will not add more shares unless a major discount occurs.

Brad Thomas latest article A 'Sleep Well At Night' REIT You Can Buy Today

I just wanted a high yield relatively safe stock. My dividend growth has been a bit slow this year.
Risks
OHI now brings in 10% of my dividends. I will buy other things to lower the total yield

real estate-interest rates. Economic downturn. The normal fear of any other real estate company
Valuation
Thompson Reuters

Positive (9)

Low: $24

Mean: $33.4

High: $40

Zacks

Yahoo finance

Fast Graphs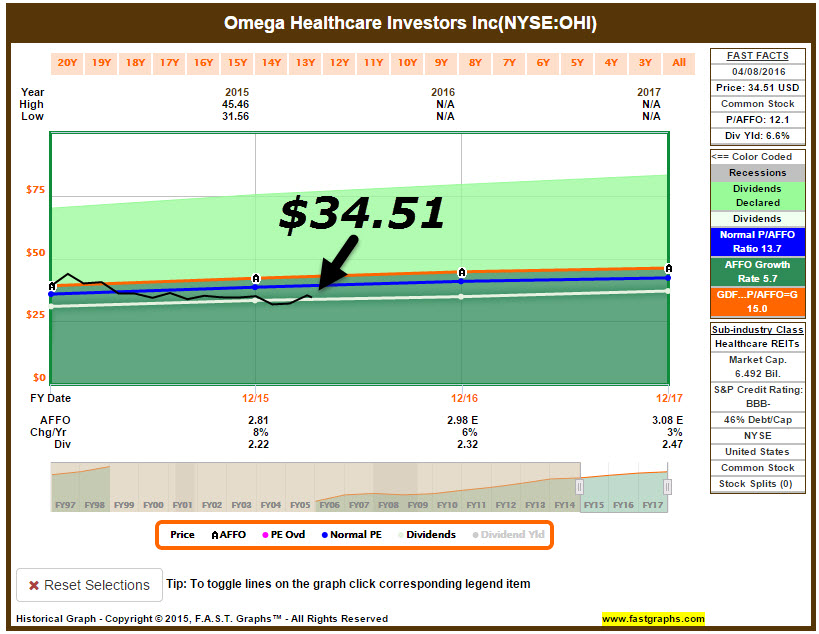 My forward dividend total stands at $2497.13 + FCISX + SCHD dividend distributions. $1000 more until I reach my 2016 Goal.